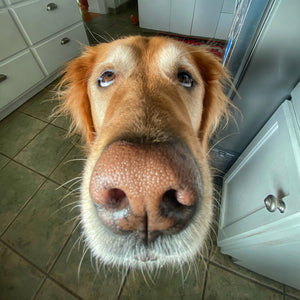 Can dried kangaroo dog treats be used as a supplement for dogs on a raw or homemade diet?
Yes, dried kangaroo dog treats can be used as a supplement for dogs on a raw or homemade diet. Many dog owners who feed their dogs raw or homemade diets seek additional options to provide variety and additional nutrients to their pets.

Dried kangaroo dog treats can serve as a convenient and nutritious supplement in such cases. They offer a concentrated source of protein and can provide essential vitamins, minerals, and amino acids that may complement a raw or homemade diet.

When incorporating dried kangaroo treats into a raw or homemade diet, it's important to consider the overall balance of the diet. Dogs require a diverse range of nutrients, including proteins, fats, carbohydrates, vitamins, and minerals, to maintain optimal health. Dried kangaroo treats can contribute to the protein component of the diet, but it's essential to ensure that the overall diet remains nutritionally balanced.

It's always recommended to consult with a veterinarian or a veterinary nutritionist when formulating a raw or homemade diet for your dog. They can provide guidance on the appropriate amount of dried kangaroo treats to include and help ensure that your dog's nutritional needs are met through a balanced diet.

Additionally, it's important to choose high-quality dried kangaroo treats from reputable sources to ensure they are safe and free from any contaminants that could potentially pose health risks to your dog.
---