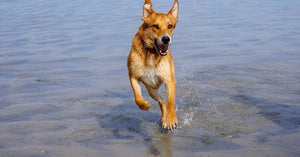 Can dried kangaroo dog treats be given to dogs with food intolerances or sensitivities?
Yes, dried kangaroo dog treats can be a suitable option for dogs with food intolerances or sensitivities. Kangaroo is considered a novel protein source, meaning it is not commonly found in most dog foods and treats. As a result, dogs that have developed allergies or sensitivities to more common proteins like chicken, beef, or lamb may not have had previous exposure to kangaroo and are less likely to have adverse reactions to it.

Novel protein sources like kangaroo can be beneficial for dogs with food intolerances as they provide an alternative option that may be better tolerated by their sensitive digestive systems. However, as with any new food or treat, it's essential to introduce them slowly and monitor your dog for any signs of allergies or adverse reactions.

If your dog has known food sensitivities or allergies, it is always recommended to consult with a veterinarian before introducing new treats or making any changes to their diet to ensure their safety and well-being.
---