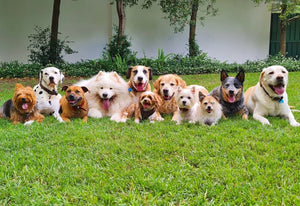 Are dried kangaroo dog treats safe for dogs with a history of food intolerances?
Dried kangaroo dog treats can be a suitable option for dogs with a history of food intolerances. Kangaroo meat is considered a novel protein source, meaning it is not commonly encountered in most dog foods or treats. This novelty factor can be advantageous for dogs with food intolerances or allergies to more common proteins like chicken or beef. By introducing a novel protein source like kangaroo, it reduces the likelihood of triggering an adverse reaction in dogs with specific food intolerances.

However, it's essential to introduce any new food or treats gradually and carefully monitor your dog's response. Even though kangaroo is considered hypoallergenic for many dogs, individual sensitivities can vary. If your dog has a known history of food intolerances, it is recommended to consult with your veterinarian before incorporating dried kangaroo dog treats into their diet. Your veterinarian can provide personalized guidance based on your dog's specific needs and help determine if dried kangaroo treats are a suitable and safe choice.
---